In this month's primary elections, Democrats in both Northern and Southern California spoke out against the status quo. San Franciscans fed up with rising crime recalled their District Attorney, who had made progressive prosecutorial discretion his signature issue. In Los Angeles, voters revolted against Democratic machine politics that offered no new ideas to confront the city's challenges. In fact, the top primary finisher in Los Angeles was a billionaire real estate developer and former Republican.
It's clear that millions of Californians are not satisfied with the direction of their communities and have serious doubts about the priorities of the state's Democratic Party.
This is not surprising, considering that a one-party system dominates nearly every aspect of government throughout California. Almost complete control of the state has driven Democratic lawmakers – at the municipal, county and statewide levels – to both appease the Party's extreme elements and prioritize partisanship over good governance.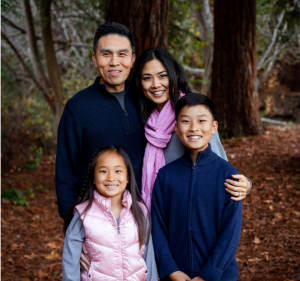 Lanhee Chen with his family
We learned from those primaries that even voters in arguably the most progressive state in the country will revolt against the Party when they see their lives becoming more difficult and their elected leaders refusing to make bold decisions to fix what is so clearly broken.
This political dysfunction is why I urge Californians to vote for Lanhee Chen for Controller this November. The position of Controller is both the chief financial and accountability officer for the state. The Controller has the power to audit state agencies, investigate how bureaucrats are spending money, and determine whether taxpayers are getting best value.
As a moderate Republican, Lanhee would serve the state's voters and not the California Democratic Party. This will give him the ability to hold lawmakers in Sacramento accountable without worrying about partisan bosses who prioritize preserving their own power.
To understand how Lanhee would govern, it is essential to know his past. The son of Taiwanese immigrants, he was raised in Southern California. While Lanhee could have pursued a lucrative career on Wall Street or in Silicon Valley after earning four degrees from Harvard University, he instead chose the path of public service.
Lanhee also has a proven commitment to bipartisanship and working with Democrats. Most notably, in 2013, then President Barack Obama appointed him to the independent and bipartisan Social Security Advisory Board. In that role, Lanhee helped safeguard the social safety net for America's seniors. He was given this job because he shared President Obama's vision that Social Security must continue to ensure that senior citizens be able to afford food, shelter, and healthcare.
It is precisely because of Lanhee's past that the Los Angeles Times recently endorsed him in this campaign. The Times understands that an independent Controller can help protect taxpayers from fraud, hold politicians accountable, make government more transparent, and ensure that the state employee pension funds are candid about potential shortfalls.
California was once the vanguard of innovation and best practices in government. But the pandemic accelerated the realization by millions of Californians that the state has gone awry due to senseless policies and patronage politics. Like Lanhee's family, my parents came to California in a quest to achieve the American dream. We must protect this hope for a better life in the Golden State. A vote for Lanhee this November is an opportunity for California to fix its problems and ensure the opportunity to prosper for future generations.